First, we have to preface this post with discussing the 3 keys that cause a food sensitivity and Hashimoto's:
Genetics (Does someone in your family have a thyroid or autoimmune condition? I had to look back 2 generations.)
Trigger (bacterial, viral, major stressor, inflammation) that expresses the gene
Intestinal Permeability aka "leaky gut"
Where does food fit into this?
First, food can cause inflammation which can be your trigger that sets off a food sensitivity and Hashimoto's. For some, it is the ingestion of gluten containing foods. For others, it might be other common inflammatory foods such as soy, dairy, egg, or nuts. For me, almonds are my major inflammatory food.
For others, a certain food is not going to trigger their Hashimoto's. It is most likely that some bacteria or virus will trigger it initially. But, inflammatory foods can continue to provoke Hashimoto's symptoms making it difficult to get better. If you can figure out what this is, you will improve your healing!
It is important to remember that inflammation is at the base of problems and symptoms. If we can decrease inflammation, we can heal!
How do you figure out your inflammatory foods?
MRT (mediator release testing) and LEAP diet therapy of course!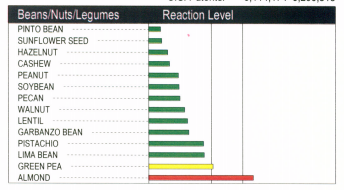 MRT can detect all non-IgE hypersensitivity reactions. It is the latest and greatest in testing food sensitivities. Do not pay money for other "food sensitivity" tests that are not as accurate or reliable. It does not test for allergies; it tests for delayed food and chemical sensitivities which are the most difficult to discover.
I would have NEVER figured out that I was highly sensitive to almonds if it weren't for MRT. I would have gone on and on eating almond butter, raw almonds, Quest bars with almonds, and almond milk and continued feeling worse and not getting better. Other foods and chemicals came up as reactive on my MRT, but none as strongly reactive as almonds.
LEAP Diet Protocol
After you get your results, you can follow what I like to call a "reverse elimination diet" aka the Immunocalm Diet using LEAP therapy. I call it reverse elimination diet because you need to think opposite of what an elimination diet asks of you. Don't think of it as getting rid of all foods. We focus on eating only the least reactive foods, and slowly add in more and more foods over time–testing them out as we go. Think of what you can eat!
To inquire about MRT-LEAP for yourself, feel free to contact me at Nicole@thyroiddietitian.com.