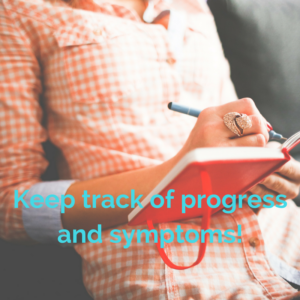 How do we know if we are truly getting better or feeling better? Hypothyroid or hyperthyroid symptoms can be vague and hard to pin-point, or may seem normal because they are mild yet, numerous and constant. I often have patients who don't know if they are getting better or not until we track their symptoms.
There are other factors that dictate whether or not you are getting healthier like lab values, and what you discuss with your doctor. However, this symptom tracker is my additional way to help figure out if you are improving. I also use this in my food sensitivity testing program, MRT LEAP.
Lately, I have been feeling more symptoms pop back up. So, I am trying to get to the bottom of it! I believe stress may be the cause of some symptoms. Did you know that stress reduces your T3?! It is always easier said than done to work on reducing stress. I am not the good meditating type, and chasing a toddler makes wind-down time hard to get.
How are you feeling? Journaling and tracking can always help to make us more mindful and may help us uncover more root causes to why we are not feeling our best!