I recently created this thyroid healthy checklist that highlights key areas to address to support thyroid health. However, it is a long list and may be overwhelming! One key to success is picking one thing to tackle, and do it well. Then, move on to the next habit or behavior to change. So, for this blog post, I figured I would highlight some of the most essential thyroid nutrition changes you can make to support thyroid health.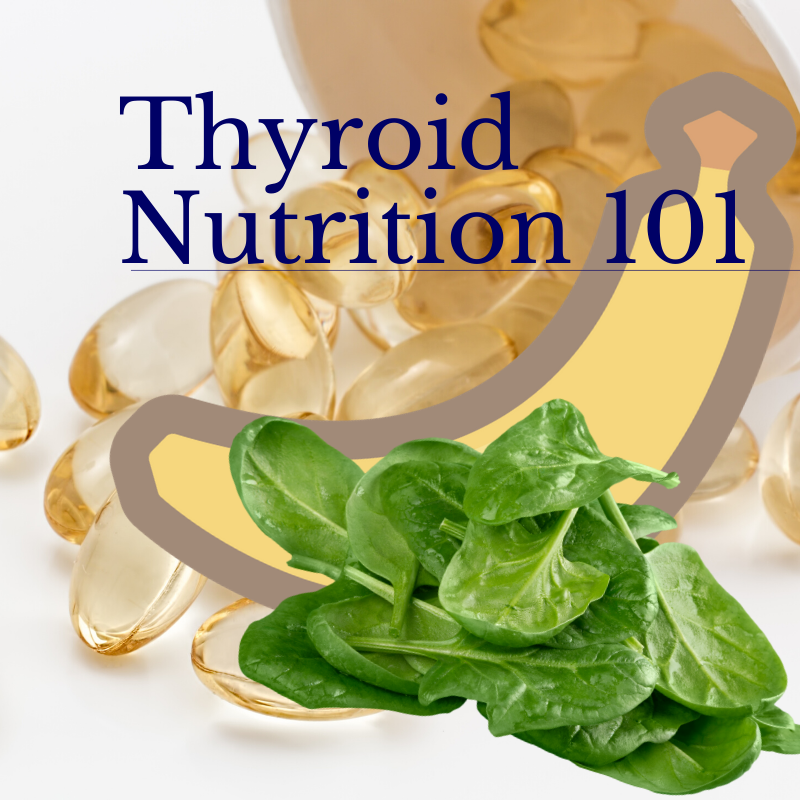 1. Test out a gluten free lifestyle.
This blog post reviews reasoning behind going gluten free for thyroid concerns. So, if you want to learn more about why you may consider taking this on, check out that link!
Anyway, one thing we do know is that patient reports heavily state that they feel fewer symptoms and antibodies have been reduced going gluten free. Izabella Wentz surveyed 2,232 thyroid sufferers, and "88 percent of people with Hashimoto's who became gluten free felt better".
This is not conclusive research. However, this does give us a lot of insight on what to do nutritionally with thyroid concerns since research is lacking. One thing I do caution is to rule out Celiac disease before committing to a gluten free lifestyle, and as always, check with your Doctor or Registered Dietitian before beginning any new diet change. You can rule out Celiac disease with a negative genetic test. And, if your genetic test comes back showing you have the genes for potential for Celiac disease, then you can get a Celiac blood test panel to further investigate. Why? Going gluten free can show a false negative in a Celiac blood test panel and can prevent you from getting a correct diagnosis.
Not sure how to eat gluten free? This is what a Registered Dietitian can easily help you with for your thyroid nutrition. It can be very confusing, and if you feel overwhelmed, call in a professional. 🙂
2. Increase your nutrient dense foods.
Foods that rank extremely high in vitamins and minerals are foods like sweet potatoes, spinach (and leafy greens), carrots, berries, bananas (yes! I said banans), nuts/seeds (avoid raw nuts and seeds if you have food sensitivites or digestive concerns), fish, and the darker meats like the darker meat of chicken and turkey.
Why? Those of us with a thyroid condition often have more challenges absorbing nutrients in our digestive tract, so the increased level of nutrients from foods is very helpful. Second, the nutritious diet helps support lower stress and lower inflammation for the body which supports overall thyroid health. Last, but not least, the vitamins and minerals support the conversion of T4 to the active thyroid hormone, T3. Bingo!
A little added bonus is that nutrient dense but lower calorie foods like these can help support weight loss if that is your goal!
3. Filter your water and ditch the plastic water bottle.
I say this over and over again. Filter your water, do not use plastic water bottles, etc. The BPA or BPS in water bottles can act like an endocrine disruptor if it gets into our body. I even use a water filter that filters out BPA that is already in the water supply! How cool is that.
Now, a second reaction I often get is, "it's too expensive". Not true!!! My favorite water pitcher with filter is about $60, and you replace the filter every 3 to 6 months depending on usage. How much does bottle water cost? Multiply that.
These slightly more expensive filters can filter out chlorine and fluoride in addition to many other contaminants. However, if you can not afford a fluoride filter, something like a PUR filter is slightly less expensive and will at least filter out all contaminants except fluoride and chlorine.
There is more and more research coming out about how trace heavy metals, fluoride, and other contaminants can reduce thyroid hormone and affect thyroid nutrition. Chlorine also competes with iodine and can therefore affect thyroid hormone. And, my water tastes soooo much better! Filtering out chlorine almost makes the water taste sweet.
By the way, I still love using my Lifefactory glass water bottle. I have tried tons of non-plastic water bottles, and I still go back to this one. I have had this water bottle for about 6 years or longer and it is still going strong!
4. Ditch added sugar for thyroid nutrition.
I know, I know. We all know we should eat less sugar to improve health. Yes, it is inflammatory. Yes, it does not help with weight loss. Yes, it can cause issues with blood sugar, and those of us with a thyroid condition may be more sensitive with blood sugar swings.
So, how do we do this right? First, read all labels. Check for grams of added sugar on the nutrition facts label. Try to keep this as low as possible: 1 to 4 grams if possible per serving. Check everything you normally eat for about 3 days. Check salad dressing bottles, check gluten free bread labels, and anything you put in your mouth. You got this!
Now, what is the replacement or better swap? Stick to whole fresh fruits for your "sugar" fix. Also, try stevia or monk fruit in moderation in things like coffee, smoothies, gluten free oatmeal, and more.
Your future self will thank you for helping improve cravings and energy in the long run!
5. Consume alcohol and caffeine in true moderation and mindfulness.
Or, consume none at all… 😀
What does this mean? For women, consume no more than one alcoholic beverage (1 serving) per day. For men, no more than 2 servings. And, no, you can not save up! One serving equals one 12 ounce beer, one 5 ounce glass of wine, or 1.5 ounces of liquor. Got that? Now, stick to it!
This helps to support liver health and detoxification processes in the body which is crucial for thyroid health and autoimmune health. You may even need to measure the alcohol in a liquid measuring cup when you are just getting started with this.
For caffeine, I like to stick to a maximum of 16 ounces of coffee per day. This is two small 8 ounce coffees, or the equivalent of 3 ounces of espresso. For green tea, you would have to drink 4 or more 8 ounce cups of caffeinated tea to equal the caffeine in this amount of coffee.
The reason to reduce caffeine or drink in moderation is to support optimal adrenal health and improve the body's stress response. This, then supports thyroid health!
I hope you have found these little thyroid nutrition tips and tricks helpful. Do you have anything nutrition techniques that have worked for you?
*This blog post is not a substitute for nutrition counseling.