Let's be honest. We use technology and phone apps a lot. Why not utilize various symptom trackers to discover more about your health and what may be stopping you from becoming your healthiest self! The more data you have, the more mindful you can become about yourself, and you will be taking steps closer to figuring out what is setting off your chronic condition. And guess what? Most of these tools and tricks are either free or very very low cost in the app stores. All it takes is a tiny bit more time from you to record the data. We got this!
If I ever feel myself having a flare-up where I am not tolerating a food, I begin keeping a food and symptom journal to see if I can play detective work and find out what the trigger is.
Next, I will give you the low-down on some of my favorite apps and tools.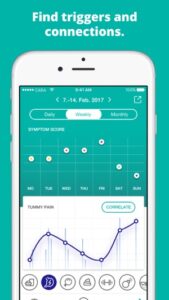 My Top 5 Symptom Tracker Picks
Do you have an app or tool you like? Feel free to share it with us on our Facebook Group!