Naked Nutrition so kindly sent me two containers of protein powder (in exchange) for me to review. I happily accept reviews on these types of products that I am frequently recommending, and I always give my honest opinion.
One thing that I love about Naked protein powders is that they use minimal ingredients in their protein powders. Actually, they use only one ingredient!! This makes their products perfect for my food sensitivity sufferers. It also makes it easier to customize the taste of your protein smoothie. There are no flavorings in the plain whey protein like vanilla or chocolate (unless you purchase their vanilla or chocolate options) so you can use one protein powder and customize it yourself to create any flavor you like. No stevia or splenda is added either. This means that you can control how sweet your smoothie tastes.
I like to add one packet of stevia to all of my smoothies when using the Naked protein powders. This is about my desired level of sweetness.
Whey Protein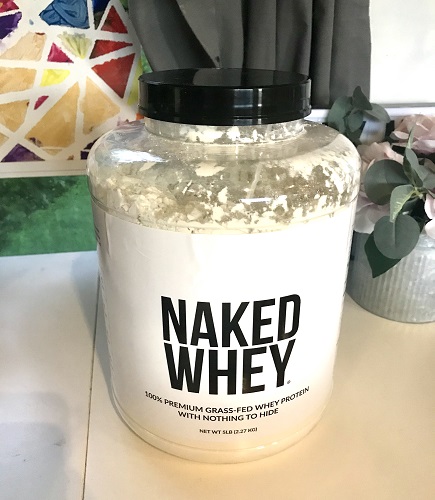 In all protein powders, we must be concerned with pureness and contaminants especially for those with a thyroid condition. Naked Nutrition uses third party testing to test for contaminants and ingredient verification.
Their whey protein is grass fed, and they report they use small dairy farms to source the protein. Did you know that whey protein in general is less allergenic than casein protein, and contains l-glutamine to support intestinal health? This is why whey protein ranks as one of my favorite options for a protein powder.
Collagen Protein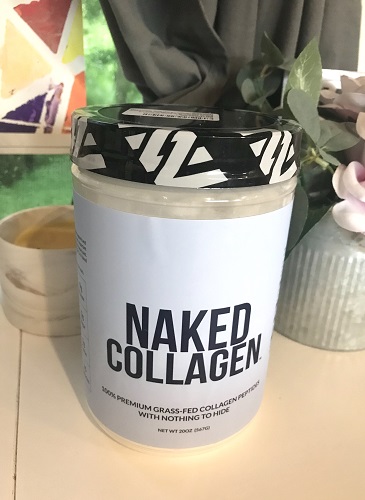 Collagen protein is one of my new favorites! Collagen protein is fantastic for skin health support and intestinal health support. Collagen may help increase our secretory IgA levels which helps to support the mucosal lining of the intestinal tract. Therefore, this makes our intestinal tract stronger and hopefully less susceptible to food sensitivities. This is why you hear so much about collagen for autoimmune thyroid conditions.
Naked has a nice collagen protein powder that is also sourced from grass fed cows, and has a nice clean taste.
Hot Tip: You can easily bake with collagen protein as it is tasteless! Collagen protein is also a good option for those who want a protein powder that has the most minimal taste.
In my cookbook, The Nourished Thyroid, I like to make a low sugar pumpkin bread with collagen protein added!
How Do They Taste?
One major win is that my husband happily uses the whey protein. He prefers to use an unflavored and unsweetened one, so this is perfect for him. Both powders are a win for me as I can easily add them to recipes due to their very mild taste and blendability. When I use them in a smoothie, I typically will add 1 packet of stevia to sweeten to get my desired taste, and then I love it!