I never imagined I would become a go-to Hashimoto's Dietitian. Health and nutrition has always been much more to me than calories in and calories out. I value low stress, happiness, exercise, being outdoors, hydration, sleep, vitamin/mineral status all as important parts of acheiving the best health possible. I suppose you can say I have always been a little bit of a health "nut" even since I was a little girl and my Mom fed me cucumber sandwiches. Funny thing is I hated hotdogs and soda as well.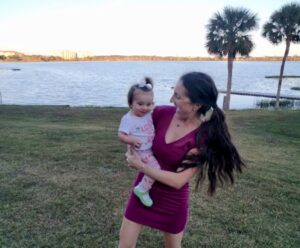 Teen and College Years 
Fast forward to my teen and college years. I lost a lot of weight which I can attribute to stress, not knowing how to properly eat, and likely the onset of Hashimoto's. I became more interested in balanced eating, and began to work towards my Bachelor's degree in Dietetics. I wanted to become a Registered Dietitian. I had the fierce desire to make sure as many people I knew would be able to live the healthiest, happiest lives without letting poor nutrition get in their way. Others picked on me for my low weight, and I started to understand that eating more balanced was helping me to feel better. I now realize I was having issues with low blood sugar, likely some nutrient deficiencies, and food sensitivities. I didn't want others to feel the same way I had.
Working as a Hashimoto's Dietitian
Fast forward to my early working years as a Registered Dietitian. I still had no idea that I had Hashimoto's. Fatigue, missed periods, blood sugar swings, sore throats, and other symptoms seemed normal. I was "sick and tired of feeling tired", so what does a Dietitian do? Get an iron (ferritin) test of course. Low iron must be the issue,
right
? Yes, and no. Luckily, I was working with a well-informed Physician's Assistant at the time and she knew me well enough to order a full thyroid panel. And there you have it: a Hashimoto's diagnosis.
I was confused since my weight was normal, and I did not have some of the typical Hashimoto's symptoms. I did not know what to do about the diagnosis. No idea. So, I researched, and researched, and spoke with some fellow Registered Dietitians and healthcare professionals I knew. I became a Certified LEAP Therapist so that I could address my food sensitivities, leaky gut, and help correct my immune system. I began a regimen of supplements to see how that would improve my symptoms and thyroid levels. Eventually, I started on
Nature-Throid
which helped to correct that last bit of symptoms I still felt.
I had already been knee-deep working on my private practice and taking on clients. Once I worked to improve my own thyroid dysfunction and symptoms, I was excited to help others do the same! Who knew that the "normal" symptoms I had could be corrected?
More years of continuing education and self nutrition treatment has empowered me to work with thyroid conditions. It is was I know, and can relate to.
About a year ago, I gave birth to a sweet little girl. Years before I thought my irregular cycles would prevent me from having children. I thought my thyroid health would get in the way. Boy, was I wrong! I had already done a lot of self-healing before I got pregnant. This is likely what helped me to have a pretty easy, healthy pregnancy, delivery, and baby! Everything went much more smoothly than I thought. I attribute much of this to proper nutrition.
Post-Baby Life
Post-baby, I still felt great until about 6 to 12 months postpartum when some symptoms returned. I worked to get to the root cause of a few lingering symptoms. I attribute a lot of my more "down" moments to stressing times in my life. Stress seems to play a big role in flare-ups of any symptoms for me. These days, I am traveling the country and seeking adventures with my loves (one way I am tackling some stress).
We go on walks every day, and are soaking up more sunshine. More vitamin D!
I am now happy to report (2 years postpartum as well) that my lab tests are much more optimal, and I am feeling great!
Yes, It Can be a Roller Coaster, But I'm Here to Help!
Hashimoto's will always be a roller coaster of a health condition no matter how much you work on healing. Sure, the better you take care of yourself, the better you will feel. But, there will always be a few dips in the roller coaster, and of course many healthy, happy times as well. I suppose the best we can do is to optimize the symptom-free moments!
Now…

how to do that??
That is a whole other story, and I am here to make it my mission to help others understand how to be their most optimal self!
To be continued…