This blog post is not intended to treat or diagnose any condition. Please see your doctor for all recommendations on lab test results.
Did you know that the lab test "normal" ranges vary from state to state and across all countries? Did you also know that the "normal" ranges are not optimal thyroid lab ranges? A normal range means a "not sick" range or a range that may not require immediate medical intervention (please refer to your doctor on this, however).
Do you want to live in optimal health, or just ok, average, not-so-sick health?
In my own personal experience and professional practice, I have seen many patients still suffering from symptoms even when their lab tests are within the normal ranges. But, if you look at a person's lab test values and check to see if they fall into optimal ranges, you may discover they complain of more symptoms when they are outside the "optimal" ranges, yet still within "normal".
So, what do I look for? …you may be asking.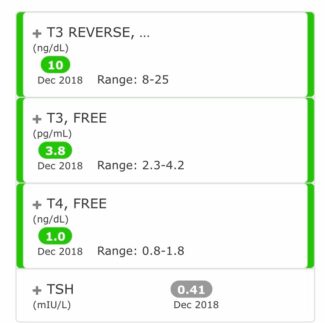 TSH: 0.45-2.0 uIU/mL
Free T4: 1.0-1.5 ng/dL
Free T3: 3.3-4.2 pg/mL
Reverse T3: < 10:1 ratio Reverse T3:Free T3. For help calculating this, visit this website or ask your doctor.
TPO Antibodies (also check TgAb if possible): < 15 IU/ml (This is controversial as some believe the levels should be even less than this, yet there are some who may still have Hashimoto's but have very low antibodies. If your levels are <15, please review with a functional medicine doctor or consider a second opinion. You may also then want to test TgAb and TSI).
These numbers are averaged levels recommended by various functional medicine practitioners and research below. There is not enough research to conclude specific guidelines for free T3 and free T4 labs, so much of what we understand and based on the clinical practice of functional medicine doctors.
If you fall outside of optimal ranges, this does not necessarily mean you require treatment–check with your doctor. Improving diet and lifestyle habits may be key!
Again, please make sure to review your lab results with your doctor, or consider a second opinion from another healthcare provider that you trust. Visit my resources page for more information on finding a healthcare provider. It is important to be your own advocate for your health. Always make sure to get a copy of your labwork, and if a provider tells you everything is "normal", ask questions and look into optimal ranges. If you are feeling symptoms, seek out help for reducing those symptoms! Be your own health detective.
References:
Carter JN, Corcoran JM, Eastman CJ, Lazarus L. EFFECT OF SEVERE, CHRONIC ILLNESS ON THYROID FUNCTION. The Lancet. 1974;304(7887):971-974. doi:10.1016/S0140-6736(74)92070-4

Garber JR, Cobin RH, Gharib H, et al. CLINICAL PRACTICE GUIDELINES FOR HYPOTHYROIDISM IN ADULTS: COSPONSORED BY THE AMERICAN ASSOCIATION OF CLINICAL ENDOCRINOLOGISTS AND THE AMERICAN THYROID ASSOCIATION. :41.

Iervasi G, Pingitore A, Landi P, et al. Low-T3 Syndrome: A Strong Prognostic Predictor of Death in Patients With Heart Disease. Circulation. 2003;107(5):708-713. doi:10.1161/01.CIR.0000048124.64204.3F

Wartofsky L, Dickey RA. The Evidence for a Narrower Thyrotropin Reference Range Is Compelling. J Clin Endocrinol Metab. 2005;90(9):5483-5488. doi:10.1210/jc.2005-0455